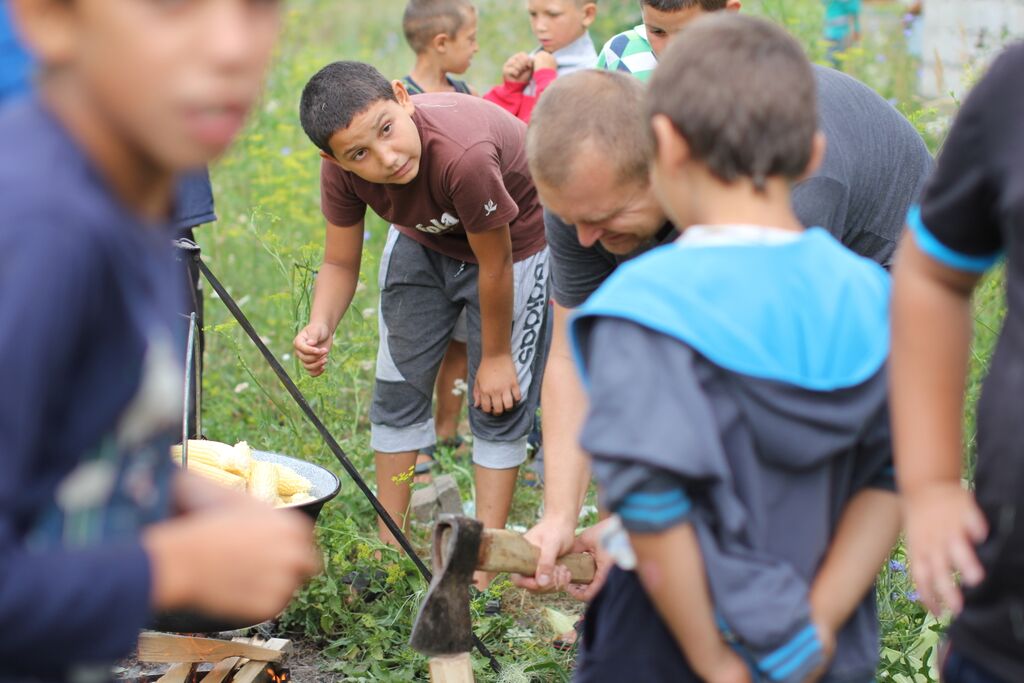 Last year our partner churches conducted summer and Christmas Children's camps for over 2,693 disadvantaged children across Ukraine. Many of the children who attend look forward to these camps all year. And they have a tremendous impact on the lives of the children who attend, many whom have seen the worst that life has to offer. We often hear how kids have been overwhelmed by the love and attention of adult care givers, giving them a different, more positive view of themselves to the way they previously felt. The routine of camp life can also bring stability to otherwise chaotic lives.
Sometimes these experiences can be life changing for individual children. Take Khrystya for example.
"Khrystya is a 14 year old girl who was part of a Christmas camp near the war zone in Ukraine. It is a very dangerous place right now, but life still goes on. She was raised in a very dysfunctional family and spent much of her life in and out of orphanages. To say the least, life has been difficult for her. This year, a church of one of our graduates from Dnepropetrovsk, about 40 miles away, went to her city and held a 3-day Christmas Bible camp. During this camp, she learned about Christ and his love for her. One of the things she was most impressed with was that the people from the church seemed to genuinely care about her and made her feel loved. She learned the Lord's Prayer and commented that now she knows how to pray when she feels lonely. (Kryviy Rig, Dnepropetrovsk region, Eastern Ukraine)."
However, the impact of these camps isn't just limited to the children. It extends to the adult leaders as well. Last year, all the adult volunteers, often from local Ukrainian churches, reported how they had been blessed by the atmosphere of love and acceptance at the camps. It was clear that God was at the centre of these occasions.
This year, because of the generosity of donors in the UK, we are able to put on more of these wonderful camps. We want to especially thank West Harton Methodist Church in South Shields, North East England, who raised over £ 836.51 as part of their annual Christmas appeal.
We are now planning on working with 18 churches, across 18 locations (all over Ukraine) to run camps for 1,235 disadvantaged children from across Ukraine.
Camps like these are so important! They are often the only opportunity children have to receive Christ into their lives. Last year, over 756 children received Christ at the camps run by our partner churches. These children's names are written in the book of life because of the efforts and ministry of our partner churches, and because of the support of people like you. Thank you so much for helping us carry out this vital work! What's more, for some of these children, hearing about God's love was the first time they became aware that they had value or worth. This is particularly true of many from the Gypsy community. This is because they are often overlooked within the wider Ukrainian society. Igor Grishajev, our national director in Ukraine, shares more:
"Gypsies are often overlooked. [Last] summer, one of our graduate's churches choose to hold a Bible camp for the Gypsy children in their area. This experience was so uncommon for these children because most of them do not even attend school, and their parents work. The church chose to work with these children because God calls us to make disciples of all nations, and these people are rejected by society. They have no legal or citizenship documentations, which leaves the children extremely vulnerable. The church told us that they had wanted to hold this summer camp for some time and Global Action helped make that dream come true. They thanked us for assisting them when they needed the help. The children learned to pray and to sing songs about God's love and mercy. They were taught lessons from the Bible and given the opportunity to participate in performances to bring the Bible to life.
At the end of the camp, the children put on a performance of songs and stories they had learned for their parents at a picnic supplied by the church."
We cannot do this work without your help! It costs on average £10 to pay for a child to attend a camp. If you would like to sponsor a child to attend a camp, please make a donation of £10 by clicking the button below.
Thank you for your prayers and support!